Barr-Nunn Transportation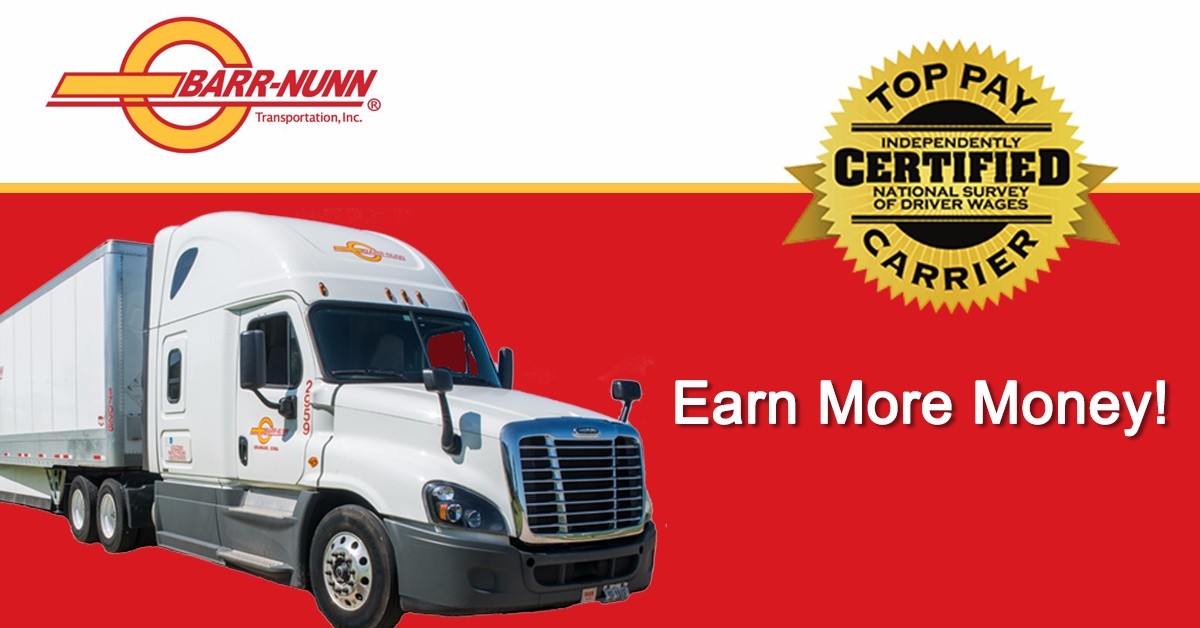 Hiring Area
AL

AR

CT

DE

FL

GA

IL

IN

IA

KS

KY

MA

MD

ME

MI

MN

MO

MS

NC

NE

NH

NJ

NY

OH

PA

RI

SC

TN

VT

VA

WI

WV
Requirements
Driver Type(s)
Company Driver
Owner Operator
Team Drivers
Benefits
Health Insurance
Vision Insurance
Dental Insurance
Life Insurance
Cargo / Collision / Liability Insurance
Retirement Plan
Paid Vacation
Paid Weekly
Layover Pay
Pickup/Drop Pay
Paid Fuel Surcharge
Direct Deposit
Company Overview
Barr-Nunn Transportation
844-826-2590
Barr-Nunn Transportation, Inc. is a publicly owned, dry van truckload carrier. Founded by Robert Sturgeon in 1982, Barr-Nunn operates about 550 tractors and about 1,800 trailers.
You drive to earn. You drive to take care of the people you love. Barr-Nunn knows exactly why you are working a driving job. Barr-Nunn's pay packages, incentive programs, and benefits are all tops in the industry. It's the only way they work.
Barr-Nunn is regarded as one of the country's best-managed truckload carriers. Celebrating its 32nd year, they have been the industry innovator in driver pay and benefits packages. The company has a reputation for respecting its drivers and working diligently to anticipate and meet their needs. For more information about Barr-Nunn Transportation call or Apply Today!
Contact Info
Barr-Nunn Transportation
1803 Burr Oak Blvd
Granger , IA 50109
Phone Number
Recruiting : 844-826-2590
Connect with Barr-Nunn Transportation