Big G Express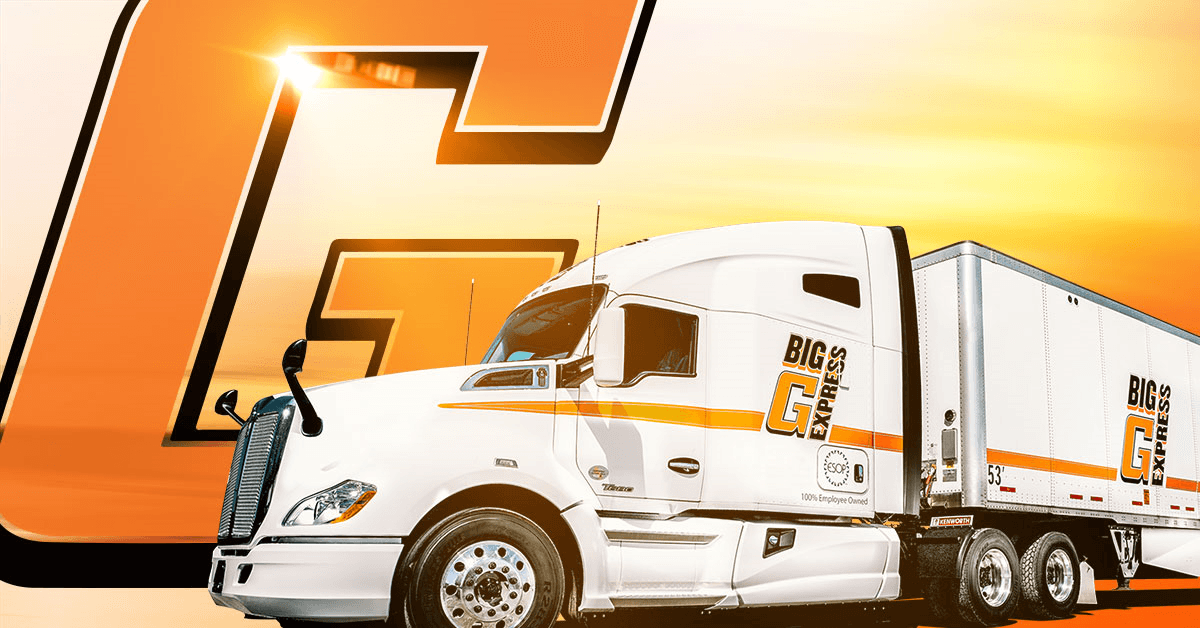 Hiring Area
SC

GA

VA

IL

NC

FL

TN

AL

IN

KY

OH
Benefits
Vision Insurance
Dental Insurance
Life Insurance
Paid Weekly
BCBS Health Insurance
Paid Vacation and Paid Holiday
Free Retirement with Employee Stock Ownership Plan (ESOP)
Monthly mileage bonus 1 cpm for 11,000 + miles
Competitive base pay starting at .40cpm
Bi-annual Fuel & Performance Bonus ½ cpm
Incentives
Excellent bonus opportunities
Late Model Tractors
EZ Pass/PrePass & APU in all trucks
100% EOBR
100% employee owned
90% Kenworth T680s, 2016 Volvos
Annual Safety Bonus ½ cpm
Pet and Rider Policy
Company Overview
Big G Express
888-690-6929
100% employee-owned Big G Express offers great OTR truck driver jobs with most weekends at home!
Dry van truckload carrier based in Middle Tennessee needs solo company CDL-A truck drivers! Join the Big G Express family and be part owner of the company!
If you have at least 6 months of over-the-road (OTR) experience and want a CDL-A truck driver job with great benefits, a competitive pay package, weekend home time, and late-model well-maintained equipment, Big G may be the trucking company for you!
At Big G Express, you'll enjoy:
• Competitive base pay based on experience
• Excellent bonus earning potentialmonthly mileage bonus, bi-annual fuel and performance bonus, annual safety bonus and unlimited referral bonuses
• Home most weekends
• Employee Stock Ownership Plan (ESOP) provides free retirement
• Automatic pay increases every 6 months
• Industry-leading benefits with affordable weekly premium and low deductible (single and family)—BCBS Health, Dental, Vision, Prescription
• 401K with employer matching
• Free Life Insurance and Long Term Disability plans and options for supplemental insurance
• Paid Vacations and Paid Holidays
• Well-maintained, late-model equipment (Kenworth, Volvo and Freightliner)
• E-ZPass, PrePass, Auxillary Power Units (APUs) and Inverters
• Rider and Pet Policy
About Big G Express, Inc.:
Big G Express is a 100% employee owned company that has been in business for over 21 years. As a financially stable trucking operation, Big G Express is able to offer professional truck drivers the best truck driver job, with well-maintained, late-model equipment and the latest technologies to keep CDL-A truck drivers safe on the road and get them home to their families in the same condition they left the house. Big G Express respects and values our professional truck drivers and offers a family friendly atmosphere where drivers can get consistent miles and earn the money needed to support their families with consistent home time most weekends.
Contact Info
Big G Express
190 Hawkins Drive
Shelbyville , TN 37160
Phone Number
Recruiting: 844-321-0257