Central Freight Lines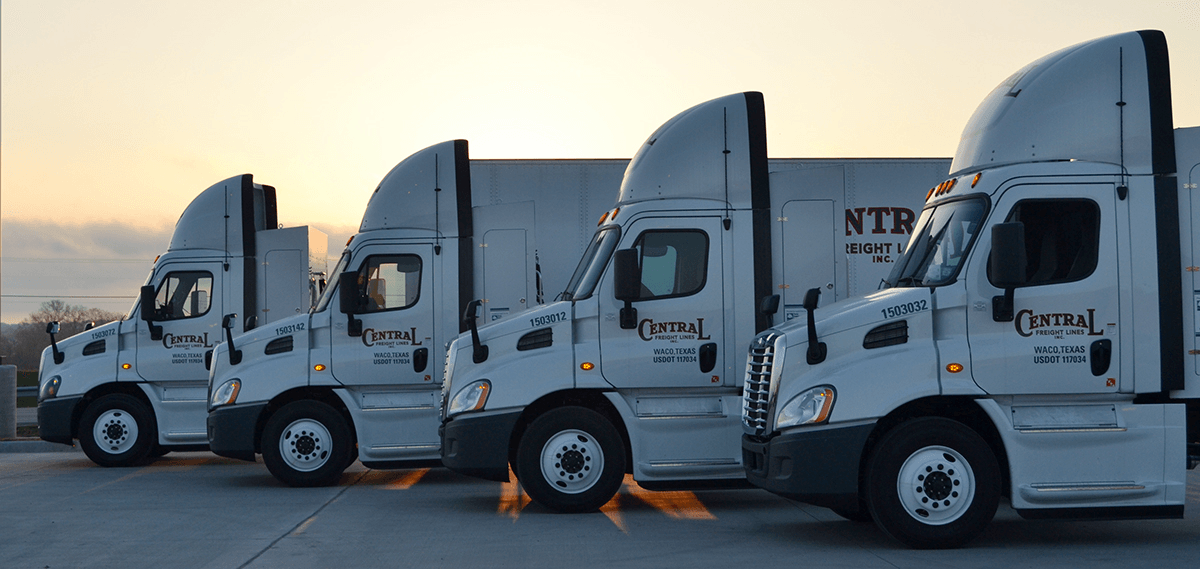 Hiring Area
TX

NM

LA

IL

AR

MO

NV

TN

OK

AZ

UT

CA

WI

NC

SC

GA

FL

VA
Requirements
Endorsement(s)
Hazmat
Tanker
Double/Triple
Benefits
Health Insurance
Vision Insurance
Dental Insurance
Life Insurance
Cargo / Collision / Liability Insurance
Retirement Plan
Paid Vacation
Paid Weekly
Layover Pay
Paid Fuel Surcharge
Direct Deposit
Company Overview
Central Freight Lines
(800) 853-7614
The Central Tradition, almost as old as the trucking industry itself, is a simple one. First, find energetic and dependable people. In many cases, they're the same outstanding employees and upper management your business has been depending on for many years. That kind of long-term employee is commonplace at Central. We have been making your pickups and deliveries and providing millions of miles of accident-free service for over 88 years.
Central Freight Lines has a rich history of providing transportation to emerging businesses and Fortune 500 industry leaders since 1925. Central's Corporate Office has been located in Waco, Texas for over 90 years.
Central Freight Lines has sustainability, financial strength and an infrastructure designed to intelligently support the logistical needs of North America's largest manufacturing, retail and distribution enterprises.
Central Freight Lines continues to look for growth opportunities without losing our focus of consistent, reliable LTL service to our core area which is comprised of 56 terminals throughout the southwest and southeast. Our CFL network provides 49 state coverage through one of the most respected partnerships in the industry. Our network supports warehousing, inventory control and distribution capabilities for those corporations looking to outsource their supply chain needs.
Central Freight Lines investment in new 2015 CNG tractors is based on our commitment to reducing our carbon footprint, being an environmentally responsible member of the community and reducing our dependency on foreign fuels.
Central Freight Lines received the 2014 Natural Gas Vechical Achievement Award presented by NGV America. Central Freight was recognized as a national innovator, early adopter and outstanding leader with vision and innovation to advance natural gas as a vehicular fuel.
Central Freight opened their second of three CNG fueling stations in Fort Worth with a Grand Opening attended by company officials and community leaders. Additional CNG fueling stations are being built in Houston and San Antonio to support Central's CNG operation.
Central Freight Lines has made a significant investment in technology by instituting a state of the art digital dispatch management system. Our dispatchers are equipped with the most powerful and dynamic computer dispatch application available to the LTL environment.see less
Specialties; Inter Regional LTL Carrier, Retail Transportation, Oil & Gas Industry Transportation, Single Source Logistics Provider, 3PL Partner, Automotive Parts Transportation
Contact Info
Central Freight Lines
5601 West Waco Dr.
Waco , TX 76710
Phone Number
Recruiting : 800-853-7614
Connect with Central Freight Lines