CRST Expedited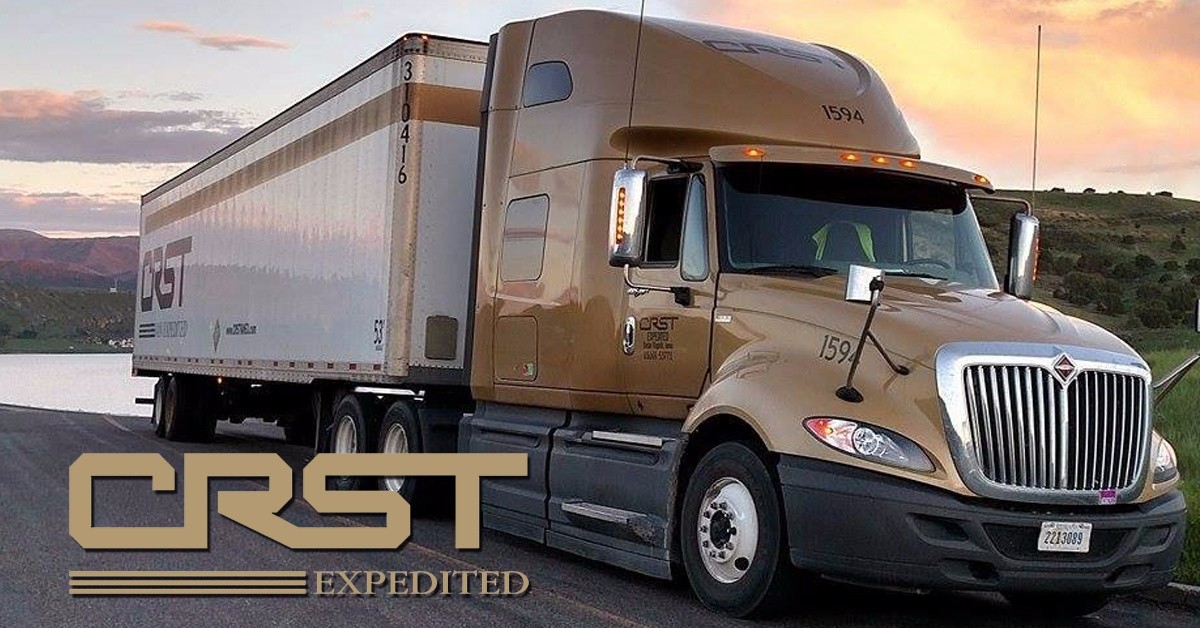 Hiring Area
AL

AR

CA

CT

DE

FL

GA

IA

IL

IN

KY

MI

MO

NC

NJ

NY

OH

OK

PA

RI

SC

TN

MS

LA

TX

VA

MD

WV
Requirements
Driver Type(s)
Company Driver
Owner Operator
Student Driver
Team Drivers
Benefits
Health Insurance
Vision Insurance
Dental Insurance
Life Insurance
Cargo / Collision / Liability Insurance
Retirement Plan
Paid Vacation
Paid Weekly
Layover Pay
Pickup/Drop Pay
Per Diem
Paid Fuel Surcharge
Direct Deposit
Company Overview
CRST Expedited
877-977-5714
Did you know you can earn more than $50k a year as a truck driver?
Sign-On Bonuses Available!
Recent Graduates- $1,500 Sign-on Bonus **30% extra pay for 90 days!**
Experienced- $1,500 Sign-on Bonus
Students- $200 Sign-on Bonus
Call for details!
CRST Expedited, Inc. is the nation's largest team carrier and has been recognized as one of the top dry van companies in America. We are extremely proud of our company's reputation, which exceeds 50 years, and believe that our success can be attributed to the professional drivers we employ and the excellent staff and management team that cares about our drivers.
As the largest team carrier in the nation, we offer more miles, more money, and guaranteed home time!
We are committed to hiring qualified individuals who are dedicated to driving safely and meeting the needs of our customers. We have opportunities for experienced teams, experienced OTR driver trainers, Owner/Operator teams, Lease/Purchase teams, recent school graduates, or those looking for a company sponsored training program.
Students
CRST sponsors hundreds of people yearly in getting their CDL A license by working with certified truck driving schools across the country. Driving classes start weekly and last 2-4 weeks. Approval for the program is based on the applicant's driving, work and criminal history, not credit! There are NO CREDIT CHECKS! CRST will also pay permit and CDL fees up front!
CRST offers great solutions for people wanting a rewarding and exciting career.
Pay & Benefits
Our student program helps you launch a rewarding truck driving career.
Affordable top-carrier medical, dental, and life insurance.
Matched 401(k) plan.
Guaranteed home time: one day off for every week out.
99% no-touch,
80% drop-and-hook freight.
The longest average trucking miles in the industry.
Average fleet age of just 1 1/4 years.
Hundreds of new trucks with late-model equipment.
Industry-leading truck driving safety program.
Mileage Bonus Opportunity
Hazmat Mileage Bonus
Driver Trainer Opportunities!
Driver Trainers can earn an additional 6 cents/mi bonus which at 6000 miles is $1470/week for top seniority drivers!
Train Your Partner program available. $.09/mi bonus for Student for first 6 months!
Take pride in teaching new CDL holders to build careers in trucking while earning great pay.
20/10 Program
CRST Expedited's 3-Person Team Driver Program teams three professional truck drivers that live in the same area. Earn similar paychecks to teams driving a full month — the best combination between driver home time and miles/pay you'll find in the industry.
Work 20 days with 10 days off at home, only 2 drivers in tractor at any given time.
Orientation Length: 3-4 days depending on location
Satellite Communications: Qualcomm
Lease Purchase Program
If you want to take the next step in your career becoming an independent contractor, CRST has a great opportunity for you. Our Lease Purchase Program is the best in the in­dustry, and helps you make the transition from driver to business owner comfortably and profitably.
No Credit Check, No Money Down
Low truck payments
Low Deadhead, No Forced Dispatch
Lucrative percentage pay package - Double your Profits!
Aggressive fuel discounts
Guaranteed Home time
Independent Contractors & Lease Purchase
Contractors and Lease Purchase Drivers, earn more with our increased rates!
Fleet Owners can partner as an agent.
Weekly take home pay after ALL expenses:
Running as a Driver Trainer
4000 miles: $1800+
5000 miles: $2400+
6000 miles: $3000+
Running as a Team
4000 miles: $2000+
5000 miles: $2800+
6000 miles: $3500+
Must be 21 years old to apply.
877-977-5714 for CRST Driver Jobs!
Contact Info
CRST Expedited
3930 16th Ave. SW
Cedar Rapids , IA 52404
Phone Number
Recruiting : 877-977-5714
Connect with CRST Expedited