J.B. Hunt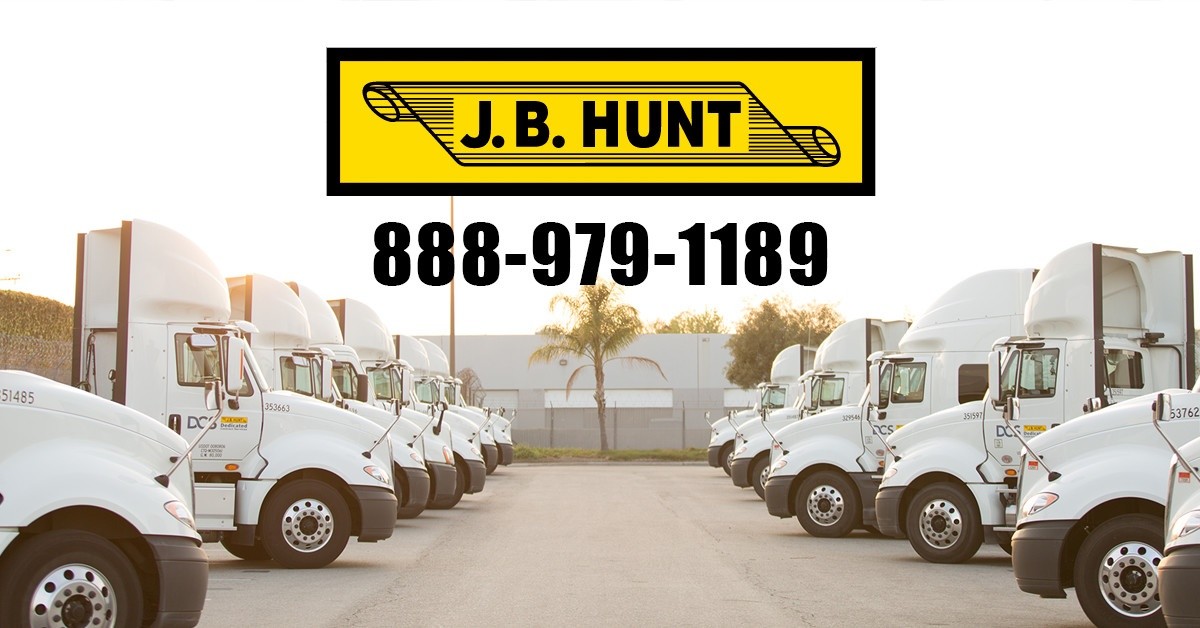 Hiring Area
CA

OR

WA

NM

AZ

CO

UT

NV

WY

MT

ID

KS

IN

IA

MN

AR

NE

SD

ND

MO

OH

IL

MI

WI

OK

TX

LA

AL

MS

TN

KY

FL

GA

SC

NC

WV

VA

MD

DE

NJ

PA

NY

CT

RI

MA

VT

NH

ME
Requirements
Driver Type(s)
Company Driver
Owner Operator
Team Drivers
Trailer/Freight Type
Tanker
Van
Reefer
Flatbed
Benefits
Health Insurance
Vision Insurance
Dental Insurance
Life Insurance
Retirement Plan
Paid Vacation
Paid Weekly
Per Diem
Paid Fuel Surcharge
Direct Deposit
Company Overview
J.B. Hunt
888-979-1189
As North America's leading trucking company and largest intermodal transportation provider, J.B. Hunt offers a variety of CDL truck driving jobs with stability and opportunities for you to grow and prosper.
It's no secret that when you have a driving job with J.B. Hunt, you're driving with one of the top truck companies in the industry. That's why our company drivers enjoy the best truck driving jobs featuring industry-leading compensation plans, affordable benefit options, well-appointed, late-model equipment and a choice of a variety of over-the-road driving jobs. We remain committed to offering the professional truck driver a better quality of life with frequent home time and strong annual earnings with the continual growth of local truck driving and regional truck driving positions.
We also have great truck driving opportunities for contractors. If you're already an owner operator truck driver or looking to become one through our Lease Purchase plan. J.B. Hunt offers you a partnership designed with your success in mind. Our owner operator truck drivers enjoy access to voluntary group health plans tailored to owner operator truck drivers; discounted fuel, maintenance and equipment; weekly settlements that protect your cash flow; and a choice of compensation plans that put you in control. These are the best Owner Operator and Lease Purchase truck driving opportunities in America. Discover how bright your truck driving career can be with J.B. Hunt.
Whether you're looking for a truck driving job as a company truck driver or for an owner operator truck driving opportunity, at J.B. Hunt you'll be associated with one of the industry-leading trucking companies with a national reach, carbon-neutral solutions and innovative technologies. In short, we're changing the way America moves and delivers. We're proud to offer CDL truck drivers the best driving jobs in locations across the United States. We encourage you to search available truck driving jobs today, or contact our team to learn more about our truck driving careers.
Contact Info
J.B. Hunt
615 J B Hunt Corporate Dr.
Lowell , AR 72745
Phone Number
Recruiting: 888-979-1189
Connect with J.B. Hunt