J.S. Helwig & Son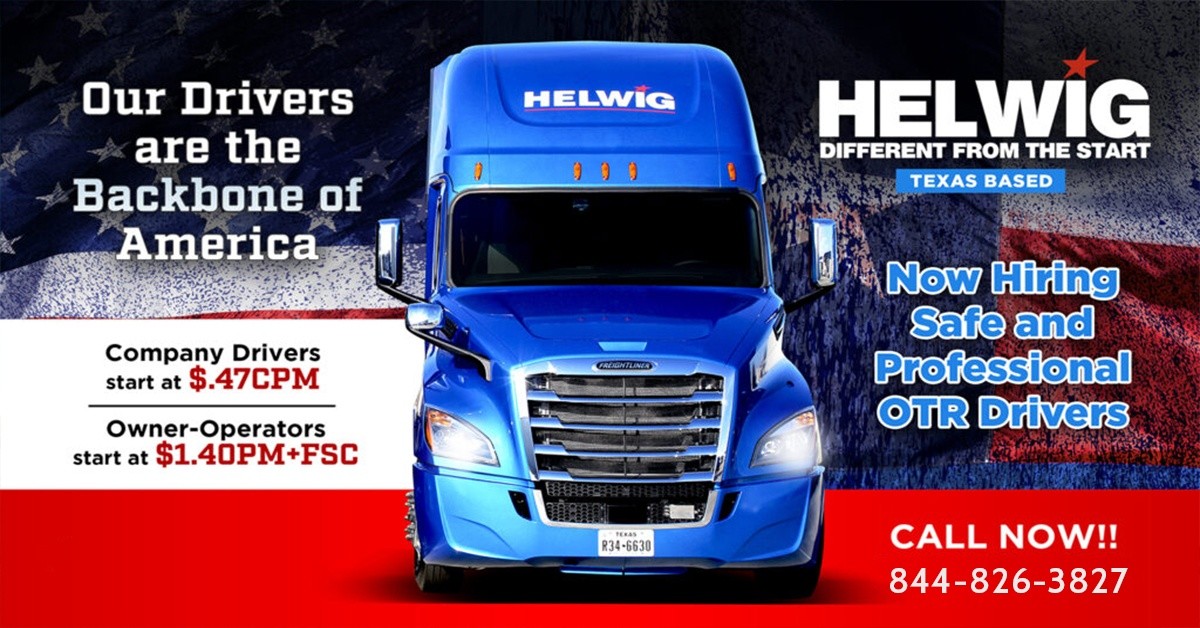 Hiring Area
AR

CO

CT

DE

GA

IL

IN

IA

KS

LA

MA

MD

MO

ME

NC

NH

NJ

NY

OK

PA

RI

SC

TX

VA

WV

TN

AL

VT

MN

WI

NM
Benefits
Health Insurance
Dental Insurance
Life Insurance
Paid Vacation
Paid Weekly
Layover Pay
Pickup/Drop Pay
Per Diem
Direct Deposit
Paid Orientation
Company Overview
J.S. Helwig & Son
(844) 826-3827
J.S. Helwig & Son, LLC. is a Common and Contract Carrier. We serve customers of temperature controlled and time sensitive traffic with safe and efficient transportation, servicing the contiguous 48 states. All of our employees are dedicated to customer satisfaction and superior service. In 1984, we began with 15 power units. Since then our primary goals has been on-time delivery, on-time pick-up, and consistent communication with our customers. Our commitment to excellence in these areas has enabled us to grow to our present size, and accounts for 99.5% on-time performance. This achievement is also due to partnership relationships with our customers, modern equipment, and the most up-to-date technology. Our operation utilizes solo, team, and owner operators, which offers flexibility to adjust to our customer's needs. All of our employees are trained and motivated to provide excellent customer service and a safe operation to enhance our productivity.
Company driver benefits include:
47CPM at the start with an average of 2800+ miles/week
Annual raises up to 52CPM
Major medical, dental and vision coverage
One week paid vacation after first year of service
Trucks 3 years old or newer, all with APUs and refrigerators
100% no-touch freight
Pets welcome in terminal and truck with $250 non-refundable deposit per truck
Company driver qualifications include:
Minimum age of 21 years
Valid commercial license (CDL)
Safe driving record that meets our minimum requirements
1 year of verifiable experience in the past 3 years
Owner operator benefits include:
$1.40 per mile plus fuel surcharge
Twice weekly pay
Referral bonus offers
Paid tolls
Free ELDs (no monthly charge to owners)
Pets welcome in terminal
Owner operator qualifications include:
Minimum age of 21 years
Valid commercial license (CDL) with proper endorsements in the state of residence
Must meet our current safety requirements
1 year verifiable experience
Tractor must be 5 years old or newer
J.S. Helwig & Son, LLC. believes it is the collective and the individual efforts of our employees that make us a superior service company. Our employees are encouraged to come forward to present their views and ideas, and our management team is available to listen and respond.
Contact Info
J.S. Helwig & Son
222 Metro Drive
Terrel , TX 75160
Phone Number
Recruiting: 844-826-3827
Connect with J.S. Helwig & Son