Kold Trans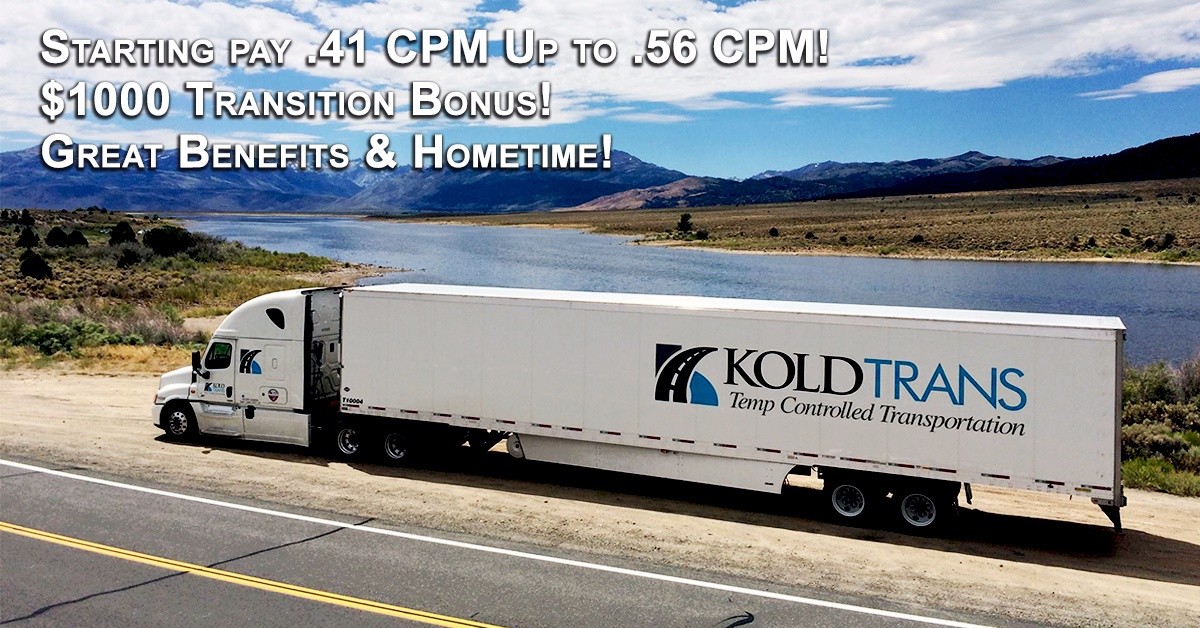 Hiring Area
IN

IL

IA

NE

WY

ID

OR

WA

CA

NV

UT

CO

KS

MO

AR

TX

OK

NM

AZ

TN

PA

KY

GA
Requirements
Driver Type(s)
Company Driver
Team Drivers
Benefits
Layover Pay
$.38 CPM to $.53 CPM
Quarterly bonus opportunity, extra $.05 per mile
Yearly pay increases on anniversary dates
Weekly and Daily pay options
Per Diem pay option
Detention Pay
Extra stops Pay
Loading/unloading Pay
Local Pay
401K plus company match
Medical, Dental, Vision and Life insurance
Choose from Daily or Weekly pay
Incentives
Pet Friendly
Great working environment
New, late model equipment
30+ service centers with parking, maintenance, fuel & amenities
Single source dispatch
Open-door policy
Rider program
Consistent Miles
New routes available! Great pay/benefits, $1000 Transition bonus with Great home-time and more!
Company Overview
Kold Trans
877-781-9608
Setting A New Standard for Temperature-Controlled Transportation
We established Kold Trans, LLC to fill a void in the temperature-controlled transportation industry. We're a hybrid company – we own trucking equipment and we also broker to third parties. This allows us to provide you with consistent truckload capacity and offer superior service to our customers.
We were founded in June 2014 as a partner to Knight Transportation, a leader in the transportation industry. With that strong foundation, Kold Trans can offer you a network of cost-effective transportation solutions throughout the United States and parts of Canada and Mexico.
We work hard to provide you with the outstanding customer service to make your job easier. Contact us today and let Kold Trans get started solving your shipping needs.
• Enjoy the Kold Trans advantages:
• Broad truckload capacity for shippers
• Nationwide network of service centers
• One of the country's largest company-owned tractor fleets
• Access thousands of third-party equipment fleets
• Corporate culture that values customers, partner carriers & drivers
Contact Info
Kold Trans
1980 S 900 W
Salt Lake City , UT 84104
Phone Number
Recruiting : 877-781-9608
Connect with Kold Trans
Videos
Kold Trans Michael Interview