Melton Truck Lines Inc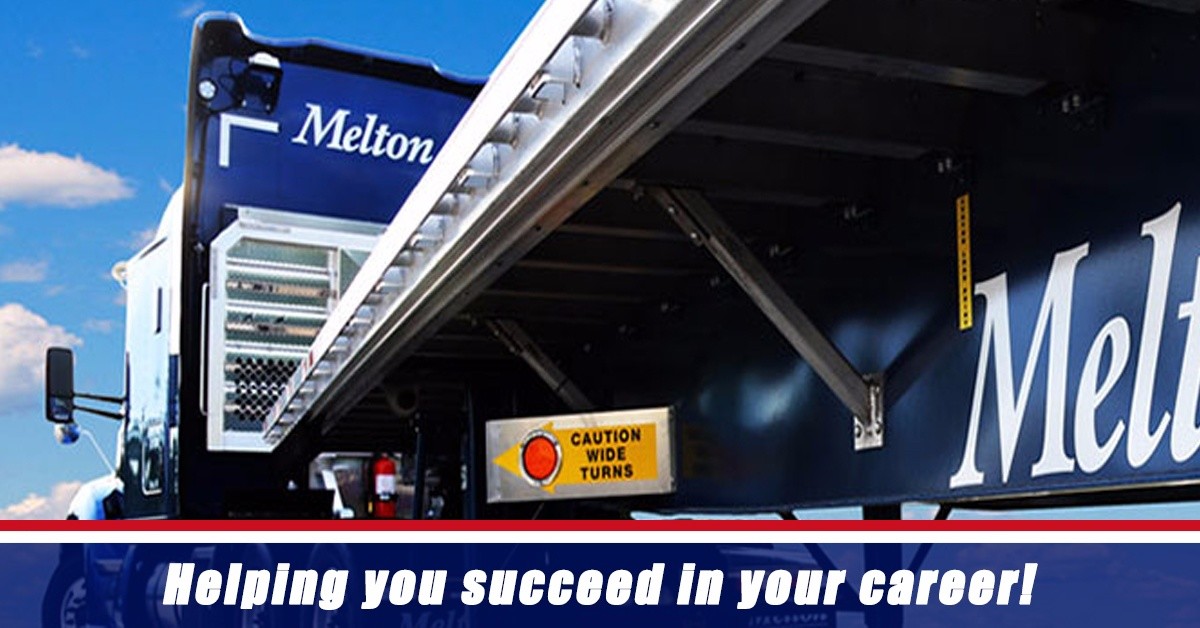 Hiring Area
AL

NH

VT

MA

CT

RI

NY

PA

OH

IN

MI

WI

IL

KY

TN

VA

WV

MD

NJ

DE

NC

SC

GA

TX

AR

OK

MO

IA

MS

LA

FL

AZ

CA

OR

WA

NM

CO

KS

NE

UT

NV

MN
Requirements
Driver Type(s)
Company Driver
Student Driver
Qualifications
Must pass drug screen
No DUIs in the past 5 years
No more than 4 moving violations or 3 accidents in the last 3 years
Benefits
Vision Insurance
Dental Insurance
Retirement Plan
Paid Vacation
Health/Dental/Vision Insurance
Free Onsite Medical Clinic
401K
Weekly Pay
Paid holidays
Paid Training and Orientation
$40 tarp pay
Extra stop pay - $25
6 cpm extra for Canada and Hazmat loads
8 cpm extra for over dimensional loads
Performance/Fuel bonus: 1-4 cpm
Driver referral bonus: $1,000
CSA inspection bonuses
Driver Trainer/Safety Trainer/Mentor/Road Recruiter Pay
Free on-site Health Clinics
Free on-site Dental Exams
Incentives
Quality Hometime
Top 1% Pay in the Industry
Canada, Hazmat, OD, and Pickup/Drop Pay
Fuel Bonus
Referral Bonus
100% No Touch Freight
CSA Friendly Assigned Equipment
100% APU Equipped
Dedicated Dispatchers
Free Truck Wash
Liberal Pet Program Any dog under 50 pounds or less
Liberal Rider Program Anyone 18 years of age and over Children 10 years of age and older can ride during the summer months
Melton is a strong supporter of the United States Armed Forces
Melton Truck Lines has some of the newest equipment in the industry
We assign trucks to individual drivers which means the truck stays with YOU even on home time
predictable home time
On-site gym, workout facilities, and personal trainer
All Inclusive Personal Concierge Service - Lifeworks
Company Overview
Melton Truck Lines
877-976-6765
Recognized as an award-winning flatbed carrier since 1954, Melton Truck Lines is in the top 1% of industry pay and offers excellent benefits to attract only the most elite and professional drivers.
We are currently seeking Class A CDL, OTR Truck Drivers who are recent CDL School graduates or have at least 1 month OTR driving experience. Drivers must be at least 21 years of age.
Our Class A CDL, OTR Truck Drivers serve the U.S., Canada, and Mexico and provide shippers with consistent, on-time transportation services. We operate within driver-friendly shipping lanes and have a 98% on-time pickup and delivery record, utilizing the most advanced technology available in our 100% air-ride fleet of late-model equipment.
It's through our reputation as one of the most dependable international carriers in the United States, Canada and Mexico that we invite you to check us out. Become one of our satisfied drivers, and we'll do everything in our power to help you succeed. Apply today to be a part of Melton Truck Lines, an industry leader.
Contact Info
Melton Truck Lines Inc
808 N 161st E Ave
Tulsa , OK 74116
Phone Number
Recruiting : 877-976-6765
Connect with Melton Truck Lines Inc