National Carriers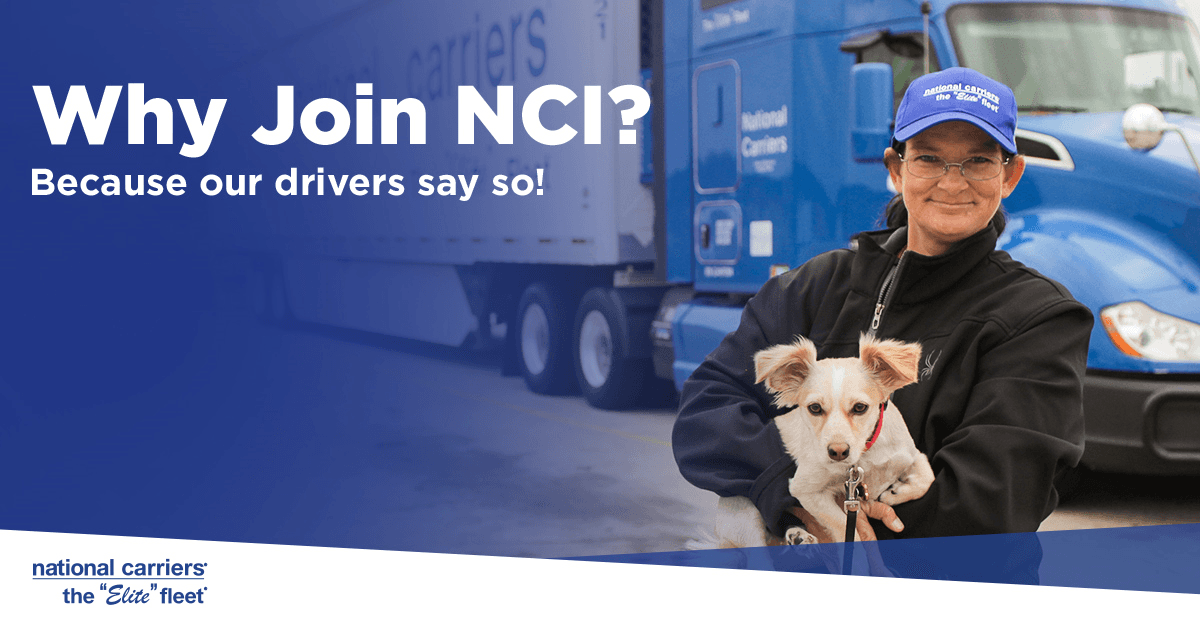 Hiring Area
AL

AR

AZ

CO

DE

FL

GA

IL

IN

KS

KY

LA

MD

MO

MS

NE

NJ

NM

NY

OH

OK

PA

TN

TX

WI

WV

SC

NC
Requirements
Driver Type(s)
Company Driver
Owner Operator
Student Driver
Team Drivers
Experience
Minimum Experience: 6 months. Ask about our Student Program if you have a CDL A, but not enough experience.
Benefits
Health Insurance
Life Insurance
Retirement Plan
Paid Vacation
Paid Weekly
Direct Deposit
Company Overview
National Carriers
(844) 600-9847
Why Join NCI? Because our drivers say so!
Drivers like Paula. Paula has served with NCI, along with her sidekick Diesel, since 2017. Not only did she find a home with NCI, she brought her mom and sister along to join NCI's "Elite" family of drivers
Company Pay & Benefits
Pay You Can Bank On – $70k+ Per Year*
* Based on drivers availability and performance
Steady freight will keep you moving and making a good living.
Automatic Detention Pay. No macros, no waiting.
Benefits to Boot
Health and life insurance for you, your spouse and children
Company-sponsored 401(K) plan - we match what you invest, so you can have more when you retire
Paid Vacation and holidays so you can take a family road trip or maybe stay home for a change
Equipment Other Fleets Envy
Late-model Kenworth T-680s. 100% automatic fleet.
Experience a smooth haul pulling our Utility refrigerated trailers with SmartTruck UT6 aerodynamics.
Newly updated trailer fleet - the 2000 Utility trailers are gone!
COMPANY REQUIREMENTS
CDL A
Minimum Age: 21 years
Minimum Experience: 6 months.
Ask about our Student Program if you have a CDL A, but not enough experience.
DWI Convictions: Must be 5 years ago
Moving Violations: Only 3 last 3 years
Preventable Accidents: Only 3 last 3 years
Call Today - 844-600-9847
Contact Info
National Carriers
3925 Carbon Road
Irving , TX 75038
Phone Number
Recruiting: 844-600-9847
Connect with National Carriers