Overbye Transport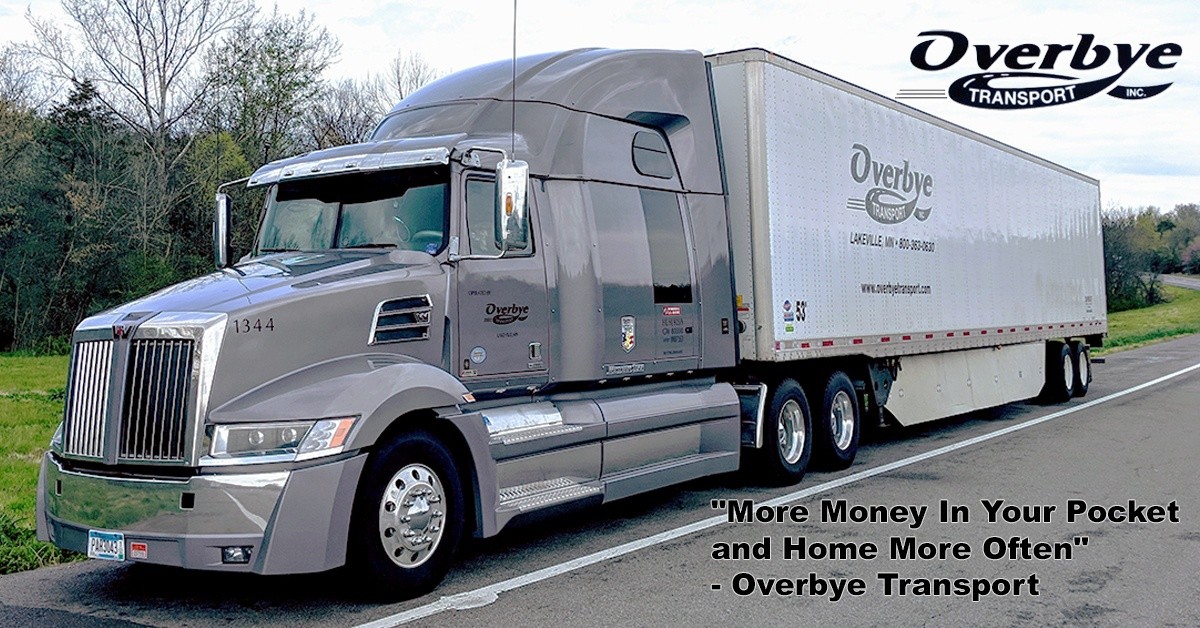 Hiring Area
CA

OR

WA

NM

AZ

CO

UT

NV

WY

MT

ID

KS

IN

IA

MN

AR

NE

SD

ND

MO

OH

IL

MI

WI

OK

TX

LA

AL

MS

TN

KY

FL

GA

SC

NC

WV

VA

MD

DE

NJ

PA

NY

CT

RI

MA

VT

NH

ME
Benefits
Cargo / Collision / Liability Insurance
Paid Weekly
Paid Fuel Surcharge
Company Overview
Overbye Transport
833-683-1665
40 Years of Professional, Reliable Transport Services in Minnesota and Nationwide
One of the best
Overbye Transport prides itself as one of the best in terms of reliability, on-time delivery and competitive rates. As a Minnesota trucking company, Overbye Transport has earned an enviable reputation for its innovation in transporting rolling stock, utilizing its patented, two-tiered decking system called OverRide Decking.
Family owned
Overbye Transport is a family-owned business founded by Harold Overbye, with more than 48 years of dedication to its customers and to its owner-operator drivers. The company is a leader amongst trucking companies for its focus on sustainability, just-in-time delivery, specialty transport services, logistics, and its family-oriented atmosphere for its owner operators.
200 full air-ride trailers
Overbye Transport operates 200 modern, carefully-maintained air-ride trailers for its full-truckload service to customers nationwide. Unique to trucking companies, many of our trailers are fitted with the patented OverRide Decking System that allows for safe, cost-saving transport of rolling stock and non stackable freight in a tiered format in the trailer. OverRide is also very flexible: it can be installed in any of our trailers quickly, and re-configured to accommodate various types of freight. In fact, as compared to other trucking companies, customers can realize as much as a 50% savings in transportation costs when using Overbye's OverRide system.
Nationwide service
Overbye Transport operates under the General Commodities Contract Authority in the 48 contiguous United States, as well as in Canada. Among Minnesota trucking companies, we operate under the Minnesota Intra State Authority. For our rolling stock customers, we far surpass other trucking companies in that we not only save our customers freight costs (using our OverRide Decking Systems) but we're able to deliver product directly to their dealers and distributors uncrated, and ready to roll into showrooms.
Logistics
Few Minnesota trucking companies are as dedicated as Overbye Transport in providing value-added logistics capabilities for its customers. Our 28,000 sq. ft. warehouse just south of Minneapolis-St. Paul is safe and secure, with 24-hour security, sprinkler systems, cross-docking and distribution capabilities. We also offer outside storage in our 10-acre, fenced, perimeter-lit asphalt-base lot. So, when it comes to choosing among trucking companies which offer a full range of transport and logistics services, you'll find Overbye Transport to be at the top of the list.
Call or Apply Today to Find Out More!
Contact Info
Overbye Transport
21881 Grenada Ave
Lakeville , MN 55044
Phone Number
Recruiting: 833-683-1665
Connect with Overbye Transport