PAM Transport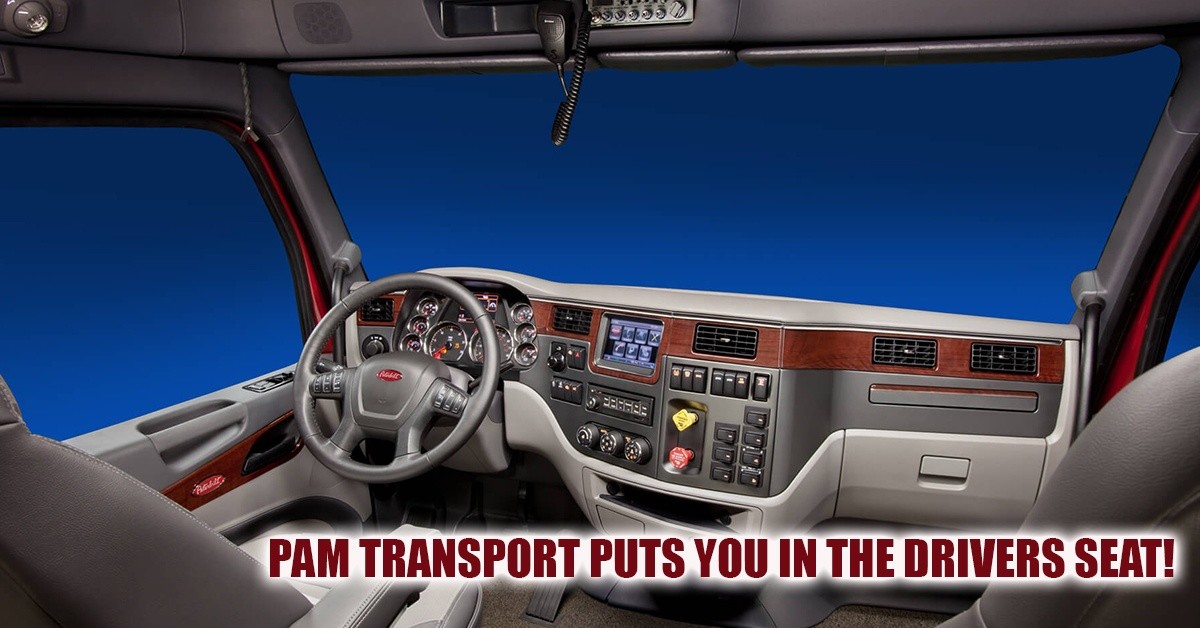 Hiring Area
AL

AR

AZ

CA

FL

GA

IL

IN

KS

KY

LA

MD

MS

MO

NC

NJ

NM

NY

OH

OK

PA

SC

TN

TX

VA

WV

MI

WI

MA
Requirements
Driver Type(s)
Company Driver
Owner Operator
Student Driver
Team Drivers
Benefits
Health Insurance
Dental Insurance
Retirement Plan
Paid Vacation
Paid Weekly
Layover Pay
Pickup/Drop Pay
Per Diem
Paid Fuel Surcharge
Direct Deposit
Incentives
Lease Purchase Available
Estimate Miles Per Week: 2,500
Company Overview
PAM Transport
844-521-2775
Company Driver - If you're looking for a great place to work, PAM has great options that fit your lifestyle. Great pay, versatile home time, and top benefits are only a few of the perks when you work for PAM. PAM Transport is a great place to grow as a driver — whether you're new to the business or have been driving for decades. We treat our company truck drivers with respect, offering easy pay, stable home time, newer trucks and top benefits.
Owner Operators - PAM Cartage Carriers provides its owner operators with excellent pay, dedicated support systems, and opportunities to expand your business through. PAM Cartage Carriers provides its owner operators truck drivers with the solid foundation they need to grow their businesses. Benefit from generous miles and supportive programs that will keep you running and help you build your owner-operator truck driving operation.
Dedicated - Roughly half of our owner operators and company drivers run dedicated lanes throughout the Eastern, Midwestern and Southern United States. With stable routes and schedules, our drivers benefit from steady pay and home time that fits their needs, helping them achieve work-life balance.
OTR - Driving OTR provides ambitious drivers a chance to log a lot of miles and bring home generous paychecks. Our OTR assignments feature mainly no-touch, drop-and-hook freight and layover pay, so our drivers don't lose any earning potential. If you want to go far, we'll help you find the right assignment.
Team - We rely on our teams for long-haul assignments, including our longest dedicated lanes. Working with a partner means high miles and big paychecks, but never at the expense of home time. If you're interested in a team position but don't have a partner, we'll work with you to find one.
Recent Grads - Recently earned your CDL-A and want to get on the road? We bring on recent CDL school grads without any OTR experience and match them with a certified PAM Driver Mentor who helps them develop the confidence they need to take to the open road on their own. During this training period at PAM, new drivers working with Mentors receive a day rate and then quickly transition to earning traditional CPM compensation from the moment they leave the yard with their first solo load.
Contact Info
PAM Transport
297 West Henri de Tonti Blvd
Tontitown , AR 72770
Phone Number
Recruiting: 844-521-2775
Connect with PAM Transport