UPS Freight Truckload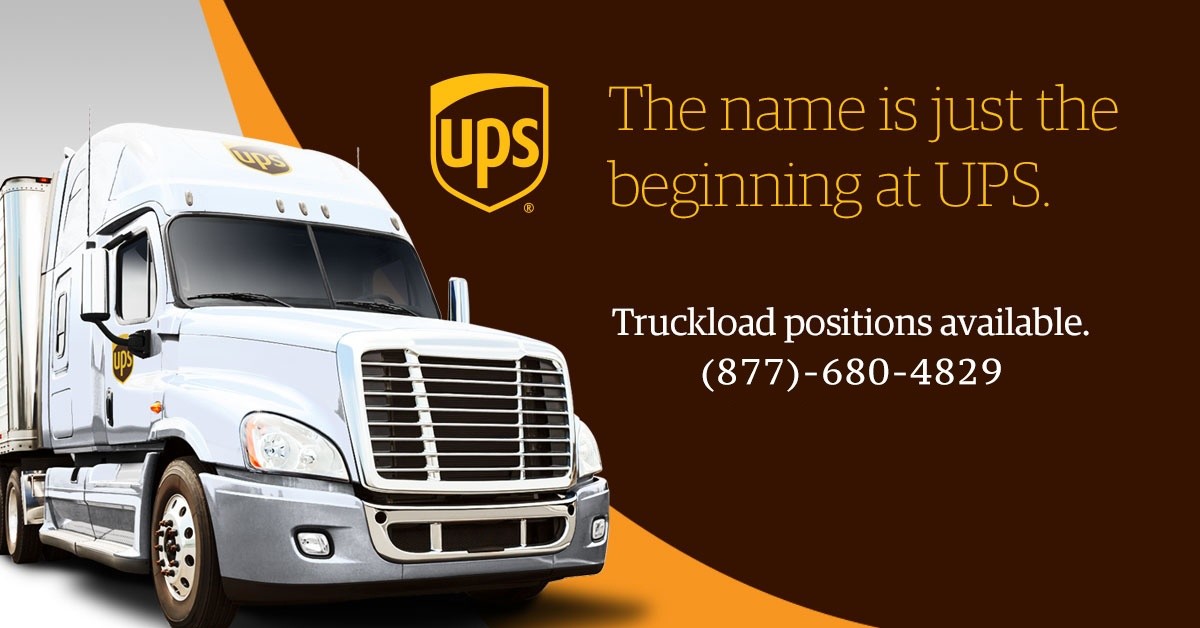 Hiring Area
GA

MD

AL

SC

WV

NC

IL

OH

IN

FL

KY

TN

VA

MS

NY

CA

PA

IA

WI

NH

CO

CT
Benefits
Health Insurance
Dental Insurance
Life Insurance
Company Overview
UPS Freight Truckload
877-680-4829
UPS Freight Truckload is hiring CDL A (HazMat REQ) Tractor-Trailer Truckload Drivers.
From staying in neutral to finding a higher gear. Where are you headed? Whether you're connecting with the community as a delivery driver, providing exceptional service as a mechanic, or hitting the road as a tractor trailer driver, you'll move faster as part of our well-respected global organization. We'll get you moving in the right direction.
In September, 2010 UPS launched a new brand platform to promote the company's expanded logistics and supply chain management capabilities.
Since becoming a publicly traded company in 1999, UPS has significantly expanded the scope of its capabilities primarily through the acquisition of more than 40 companies, including industry leaders in trucking and air freight, retail shipping and business services, customs brokerage, finance and international trade services. As a result, UPS's relationship with many of its customers has deepened to include much more than basic transportation services.
The rise of e-commerce and increase in home deliveries created the need for consumers to gain more control over residential shipments deliveries prompting UPS My Choice. This revolutionary home delivery service enables busy consumers to control and manage their incoming package deliveries online and with their mobile devices. Millions of consumers take advantage of this service made possible in part through ORION technology.
ORION, On-Road Integrated Optimization and Navigation, reduces miles driven by optimizing driver routes resulting in significant operational impacts, extensive cost savings, positive environmental effects and raises the bar on efficiency and customer service U.S. deployment will be completed by 2017 and will set the stage for even more personalized service offerings.
The fifth generation DIAD V, delivery information acquisition device is rolled out to speed package tracking detail between UPS and its customers. With more than 100,000 devices in use worldwide, the iconic handheld is the first device in the industry to switch on-the-fly between cellular carriers independent of cellular technology, making it more reliable than previous versions.
UPS acquired Brussels-based Kiala and launched UPS Access Point, a convenient alternative to home delivery, allowing busy UK consumers to purchase goods over the Internet and choose convenient delivery and returns locations such as convenience stores, petrol stations and newsagents.
In 2013 UPS advanced worldwide service through becoming the first global express delivery company to be wholly-owned in Vietnam. The change allows UPS to better connect Vietnam's rapidly expanding economy to world markets through the UPS network. UPS expanded into the healthcare market to better reach customers on a global scale with facility openings in China, Hungary, Australia, Italy and North America.
Call or Apply Today to find out More!
UPS is an equal opportunity employer – race/color/religion/sex/national origin/veteran/disability/sexual orientation/gender identity.
Contact Info
UPS Freight Truckload
55 Glenlake Parkway, NE
Atlanta , GA 30328
Phone Number
Recruiting : 877-680-4829
Connect with UPS Freight Truckload