USA Truck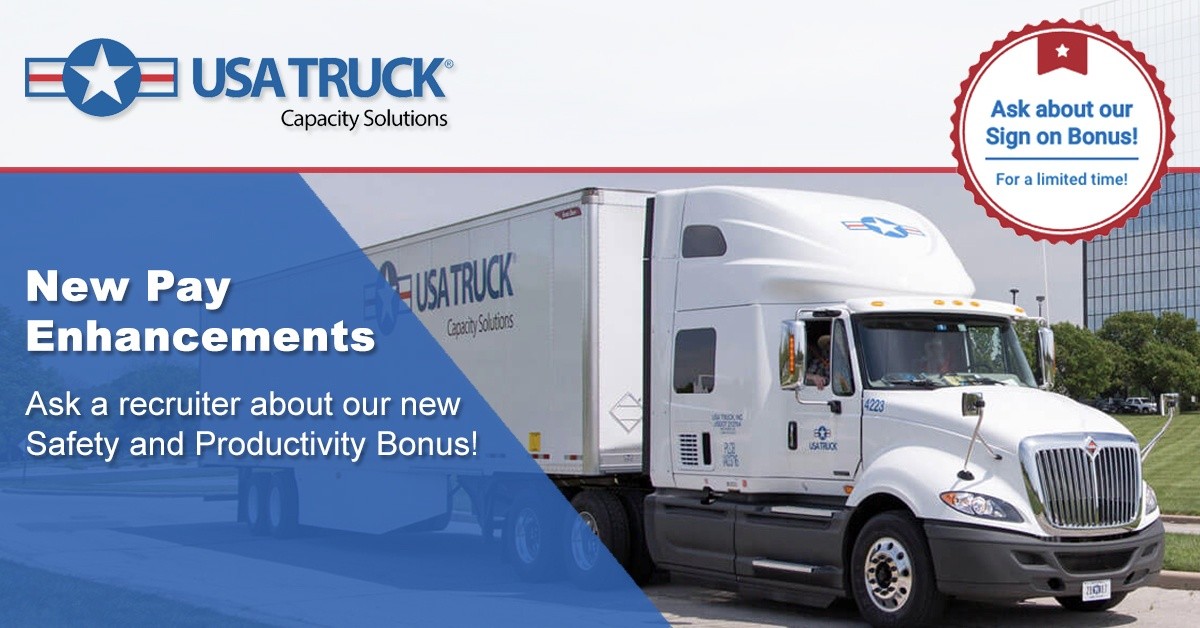 Truck Driving Jobs at USA Truck
This company's jobs will be updated shortly...
Hiring Area
AL

AR

CT

DE

IL

IN

LA

MD

MO

MS

NC

NJ

PA

TN

VA

WV

SC

GA

OH

KY

FL

TX

OK

IA

MN

MI

WI

NY

KS
Requirements
Driver Type(s)
Company Driver
Owner Operator
Team Drivers
Trailer/Freight Type
HHG
Tanker
Car Hauling
Van
Reefer
Specialized
Hazmat
Double/Triple
Benefits
Cargo / Collision / Liability Insurance
Retirement Plan
Paid Weekly
Layover Pay
Pickup/Drop Pay
Per Diem
Paid Fuel Surcharge
Direct Deposit
$300 Paid Orientation
Short haul, Detention AND Breakdown Pay
Health Insurance - Company Drivers
Vision Insurance - Company Drivers
Dental Insurance - Company Drivers
Life Insurance - Company Drivers
Retirement - Company Drivers
Paid Vacation - Company Drivers
$204 Paid Orientation
Incentives
Pet Friendly
Spouse Rider Program
Child Rider Program
Safety Bonus
NEW PAY INCREASE!
Monthly Productivity and Safety Bonus
Longetivity Bonus
Loyalty & referral bonuses
Flexible hometime options
No-touch freight (OTR)
Students and recent grads welcome
New Sign-on Bonus now available for Experienced Drivers- up to $3,000!
New Lease Purchase Program - Call us for more options!
Company Overview
USA Truck
877-973-2122
Here at USA Truck we provide transportation and logistics services throughout the continental United States, Mexico, and Canada, and have done so for over 30 years. We attribute our long-serving success to our dedication to performance, service, and relationships - with these standards our drivers are supported by some of the best people in the industry. We also want to help you reach your goals - whether that is as an experienced driver, recent CDL grad, or owner operator. We offer all employees modern equipment, work-life balance, and amazing benefits because at USA Truck we put our drivers first – that's our pledge.
Contact Info
USA Truck
3200 Industrial Park Rd
Van Buren , AR 72956
Phone Number
Recruiting : 877-973-2122
Connect with USA Truck